Al Kalima
Al Kalima publishes and distributes books which help Muslims understand Christ, to build bridges of understanding between Muslims and Christians.
The True Meaning: why another translation into Arabic?
Muslims make up 95% of the Arabic speaking world and yet most Bible translations in Arabic have been translated by Christians for members of the traditional Christian community. Most of these translations are wooden and laden with ancient church terminology, much of which is borrowed from non-Arabic languages and is not understood by Arabic speakers. Based on a survey of Muslims done by the editorial team, it was found that existing Arabic Bible translations do not communicate well, and in many cases miscommunicate the intended meaning.
The goal of the project was a translation of the gospel message that would speak clearly and naturally to the hearts of Arabic speakers unfamiliar with church terminology and traditions.
For more questions and answers about The True Meaning, including how we translate difficult concepts for Muslims, follow this link.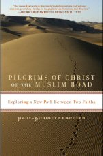 Pilgrims of Christ on the Muslim Road
Exploring a New Path Between Two Faiths
Al Kalima founder Mazhar Mallouhi is the inspiration for Paul-Gordon Chandler's book as he seeks to chart an alternative approach in Muslim-Christian relations. Recommended reading for all who seek to understand Al Kalima's publishing intitiatives.
"I consider this an important book. What a life Mazhar Mallouhi has lived! He stands in an almost singular position as a bridge between two worlds which, alas, seem to be separated by an ever-increasing divide." Philip Yancey, author
More details on www.paulgordonchandler.com
Praise for new Bible translation
"This text is clear, flowing and expressive, communicating the Biblical meaning with accuracy and elegance, and with clarity, simplicity and depth. It is academic research and literary elegance that rarely are joined, which you find here mingled in one book.
The text of the Gospels is brilliant, and the text of the Acts of the Apostles is an eloquent history. The articles, footnotes and explanation are rich and enriching."
Saeed Baz, Professor of Arabic Language and Literature and Bible translator